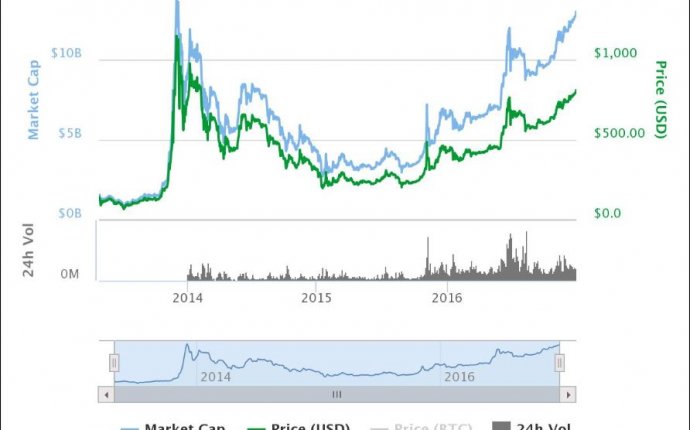 Bitcoin market Watch
After two years of lackluster returns, the price of a single coin soared more than 100% this year — putting bitcoin on track for its best annual performance since 2013. A wave of exuberance carried bitcoin from around $90 in January of that year to an all-time high of $1, 242.
Bitcoin's market capitalization sailed past $14.5 billion as the price of a single coin traded as high as $913 a coin on Friday, according to Coin Market Cap, as its market capitalization to sail past the $14 billion mark, eclipsing the market value of, say, Twitter Inc.
Bitcoin analysts attribute this year's advance to several factors: increasing adoption of bitcoin among professional investors, improving market fundamentals and a perception that the world's largest economies are growing increasingly unstable.
"You're talking about the eurozone fracturing, you're talking about the Chinese yuan devaluation, you're talking about Trump's curveballs, " said Charles Hayter, founder and CEO of CryptoCompare, a company engaged in bitcoin data and analytics.
The shift in bitcoin's valuation is only part of the story. Trading volume has also increased dramatically in 2016, peaking at more than $330 million a day over the summer. Finally, the bitcoin market is liquid enough to allow professional traders to enter and exit positions without losing their shirt, as Hayter put it.
In September 2015, the U.S. Commodity Futures Trading Commission declared bitcoin and other digital currencies to be commodities falling under its purview. By this standard, bitcoin has been the best performer in its asset class, surpassing coffee (up 9.6%), soybeans (15%), crude oil (43.1%) and gold (6.7%).
On a percentage basis, a few other cryptocurrencies may have outperformed bitcoin, but their extremely low valuations mean they're largely irrelevant to the global investing community. One example is Ethereum, the world's second-largest cryptocurrency. In January, a single ether token was worth $1. Now, it's worth $7. Its price peaked above $20.
China
Investors who've held on to bitcoin since the price collapsed in 2014 should be thanking the Chinese government. Trading volume on Chinese cryptocurrency exchanges outpaced volume in the U.S. by several orders of magnitude, Hayter said, signifying a massive increase in demand among Chinese investors.
The sharp decline in the value of the Chinese yuan, also known as the renminbi, has been widely credited for this surge. China's central bank has tried to slow the currency's decline by liquidating some of its foreign currency reserves, but still the dollar has risen more than 7% to about 7 yuan — the Chinese currency's weakest level since 2008.
However, whether this demand is sustainable is unclear. Until recently, Chinese authorities had grudgingly tolerated bitcoin, but that could soon change: In November, Bloomberg reported that the Chinese government is exploring ways to stop citizens from using the digital currency to bypass the country's stringent capital controls.
Institutional investors warm to bitcoin
Slowly but surely, institutional investors are warming to bitcoin.
Over the past year, the Bitcoin Investment Trust GBTC, +3.29% , an investment vehicle launched in 2013 by Grayscale, a subsidiary of the Digital Currency Group Co., has seen its assets under management more than double, from $60 million on Dec. 31, 2015, to $139.5 million as of Wednesday.
Source: www.marketwatch.com