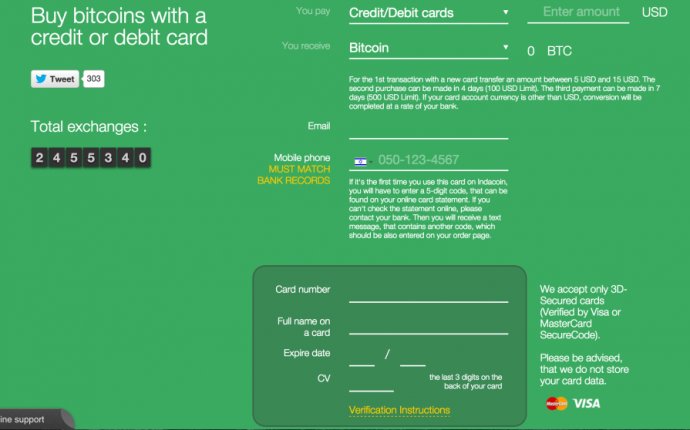 How to get Bitcoins with credit card?
Many people would like to stay anonymous when buying stuff around the web for different reasons. The problem with Bitcoin is that it's not completely anonymous. Once a Bitcoin exchange requests identifiable information such as an email address, government id or a utility bills they can know and track every movement of your Bitcoins.
That's why today I'm going to go over some simple methods of buying Bitcoins anonymously. For the more advanced users I will supply some additional reading material near the end of the article:
The Local Bitcoins option
If you're looking to buy Bitcoins anonymously then the easiest way would be to buy Bitcoins in cash and in person. Use Local Bitcoins to find someone who is willing to sell Bitcoins for cash next to your physical location. You can use an alias email address to sign up to Local Bitcoins and the verification id process they have is optional. When you use cash it's easy to remain untraceable as there is no documentation for the transaction. Keep in mind that most sellers on Local Bitcoins don't like to do business with anonymous buyers, however since you're paying in cash it should be less of an issue.
The Bitcoin ATM option
Another way to buy Bitcoins anonymously with cash is to go to your nearest Bitcoin ATM and buy Bitcoins from the ATM using cash. Buying Bitcoins via an ATM is probably the best way to go about buying Bitcoins anonymously however not everyone has an ATM next to them. When asked to enter your Bitcoin address at the ATM just specify that you don't have one – in most cases this will just generate a new paper address for you and you're good to go. Later on you can import the private key from that paper wallet and send those Bitcoins wherever you like.
The prepaid card option
One way to stay anonymous is to use a prepaid credit card you can get at any supermarket or convince store. You can then use this card to buy Bitcoins without the need to supply any form of identification at places like Coinmama (up to $150) or Virwox.
The BitQuick option
Bitquick acts as an escrow for Bitcoin transactions via cash deposits at thousands of banks across the US. The idea is simple – buyer and seller agree on an amount. The seller deposits the Bitcoins at Bitquick. Once the buyer deposits the cash into the seller's account the coins are released. A mobile phone number is needed for this process but no id verification is required.
The wall of coins option
Wall of Coins is available in the United States, Canada, Germany, Argentina, Latvia, Poland, and the Philippines. It is a peer to peer Bitcoin exchange that allows you to buy Bitcoins without the need to verify your ID. You will however require a phone number to use the exchange.
Advanced methods for buying / using Bitcoin anonymously
These were some simple ways of buying Bitcoins while staying anonymous or without the need of any identification. If you want to get real serious about using Bitcoin anonymously around the web I suggest reading The Complete Guide to Using Bitcoin Anonymously. This guide details advanced methods and techniques to keeping your privacy around the web. However, if you're just looking to buy a few coins without being traced just use cash – it will solve most of the issues.
If you've had any experience with buying Bitcoins anonymously I would love to hear it in the comment section below. For additional resources you can also visit this site.
Source: 99bitcoins.com