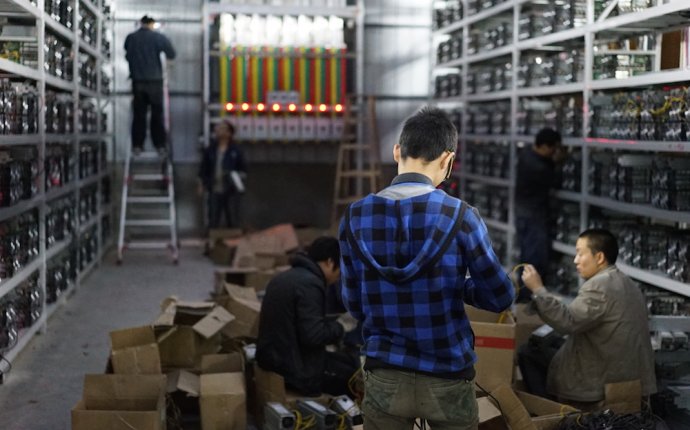 China Bitcoin mining
Eric Mu is chief marketing officer at HaoBTC, a bitcoin wallet service. Here he speaks about life at the company's bitcoin mine in the Tibetan mountains.
Living three months in a place where you have to travel 10km to reach the closest store might be inconceivable for a modern city dweller. For me however, being face-to-face with nature, plus the chance to witness some sort of modern alchemy, holds irresistible appeal.
When the chance came, I didn't hesitate. A four-hour flight and eight-hour drive later, long after I lost count of the tunnels and bridges I passed, I arrived in HaoBTC's multi-petahash bitcoin farm, nestled in the mountains.
The view wouldn't look out of place in a James Bond movie. The only link to the outside world is a road 150 meters away. When a mild earthquake struck the region last year, this link was severed and the workers of the nearby power station ate potatoes for weeks before deliverance arrived.
The native population is Tibetan, and Yi villagers live in relatively primitive conditions by the prevailing standard. When the government offered millions of yuan each to evict a nearby village to build a dam, the story goes that the villagers, who probably had no notion of a number that large, refused categorically.
But money is coming, in a way many wouldn't expect.
The mine
People have been puzzled by the fast growth of bitcoin mining in China. However, one big reason it has ramped up so dramatically is the buildout of hydropower in the west of the country.
The first petahash mining farms were built in Shanxi and Inner Mongolia where coal was cheap and plentiful, but even cheap coal can't compete with free water.
Now, the farms are migrating en masse towards the west. Our local power station, with a capacity of 25, 000 kW, started generating power in 2013, but when HaoBTC's CEO Wu Gang came across it last year, the company was having difficulty paying its employees.
It couldn't obtain the quota enabling them sell power to national grid, which prefers the state-owned power stations over those that are privately-owned. Also, the county-level grid could only consume a small percentage of the power the station generated.
When Wu Gang appeared on the scene with a wacky idea to mine bitcoin using hydropower, people were initially skeptical. However, once they overcame this initial bout of confusion it was clear a win-win arrangement could be formed.
Prior to the discovery of the new power supply, Wu Gang already owned mining operations in two locations, producing 7 PH/s. Once preparation at the local hydropower station was completed, Wu Gang's miners quickly relocated to take advantage of the cheap power.
Two buildings have now been constructed to house the miners and two more are currently underway.
The farm operates over 10, 000 Antminer S3 units, which, alongside the huge ventilation fans, generate a drone that is more than a little annoying. Not what I would call deafening, but you have to be loud when you talk to someone even close to you – an ideal environment to teach you to be economical with words.
Source: www.coindesk.com