Pool mining Bitcoin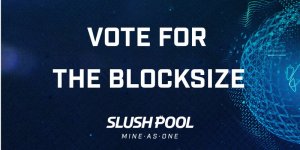 Fundamentals
Hello Miners!
Some of you may have already voted, but others might be wondering what for is the voting feature on Slush Pool. It is actually quite simple!
In mind with the philosophy of decentralization, Slush Pool has decided to give our miners a say in the blocksize debate. If you do not know what is the debate over the blocksize, please check out Coindesk or bitcoinwiki. Slush also published his private point of view on the blocksize debate, available on this blog
In short, the main question is whether or not should the size of a block be increased, and if yes, to what size. There has been a varying degree of disagreement within the community, with the Core supporting the current 1MB size, Classic standing behind 2MB blocksize, and Bitcoin Unlimited calling for the abolition of limits, and instead to depend on consensual limits. These three proposals currently share the biggest amount of votes on the Pool.
Voting results at the time of the Article
How Does Your Vote Count?
As you mine on Slush Pool, your reward is calculated proportionally to your hash rate. In a similar way, we want you to have your voice when it comes to this blocksize debate. We do not want to use your hashrate to promote our agenda, instead we leave the answer to this fundamental question for Bitcoin to you, our miners. We highly recommend everyone to vote, no matter what hashrate or opinion. You all are entitled to your decision.
How to Vote
Simple, go to your Settings and under Mining, choose your Preferred blockchain proposal. Save your settings and you are done! Voted!
What Voting Does Not Do
Voting does not, in any way, affect your rewards on the Pool. Nothing will change when it comes to payout. You will not lose any hashrate. Your worker will start receiving mining jobs, depending on your preference, in order to propagate/announce your choice into the Bitcoin network.
Difference between Did Not Vote and Does Not Care
If you did not vote, the Pool AI will divide your hashrate between the options proportionally. If you vote for "Do Not Care", the Pool AI decides itself, which block to mine.
No matter what you choose, your workers will continue mining in the same way. Voting only shows the Bitcoin network what your preference is, in order to foster discussions on how the blockchain should continue in the future.
Source: blog.slushpool.com