Bitcoin paper wallet Generator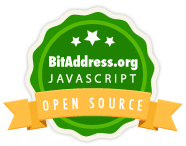 But first read everything on this page since you should take to make sure your new wallets are secure.
NEW: Litecoin & Dogecoin paper wallets, too!
: How to make a paper bitcoin wallet
Why trust this site?
This generator is based on BitAddress.org, the well established and most trustworthy open-source engine for generating addresses using your own browser's JavaScript engine. No crypto-code is run on this web server, and no addresses are transmitted over the Internet. BIP-38 encryption is fully supported as well. If you don't trust this service (or pseudorandom number generators in general) this wallet service lets you roll dice, shuffle cards, or supply your own "vanity keys". To be more secure, you should download this wallet generator from GitHub and run it offline, or even boot from this Ubuntu CD.
1. Tri-Fold Template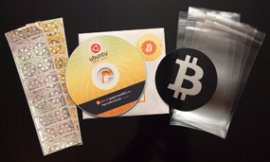 This bitcoin key generator guides you to print both a front side and a back side for your paper wallet. All sensitive details on the front side (the private key and QR code) are folded up and securely taped shut so as to stay hidden. For additional security, you can seal your wallets with the tamper-evident serialized available for purchase on this site—though any sufficiently opaque (light-blocking) tape will work fine.
2. Tamper Resistant
One risk with a paper wallet is that someone with physical access to your wallet may "sneak a peek" at the private key and withdraw your funds without your knowledge. This wallet's folding design and obfuscating security patterns resist "candling" - the process of shining a bright light through the paper to reveal what's printed inside. hologram stickers guard against stickers being removed and simply replaced with new ones.
3. Perfect for Giving
Want to give bitcoins to someone who isn't tech-savvy? Need to send bitcoins by mail? Use a pre-loaded paper wallet. The sealed-shut folded design helps to ensure that the recipient won't accidentally reveal the private key. For recipients unfamiliar with bitcoin, the reverse side of the wallet has printed instructions for checking the wallet balance and withdrawing funds.
Use this form to purchase tamper-evident holographic stickers with serial numbers, zip-sealing bags made specifically for this folding wallet design, or a bootable CD for making paper wallets offline.
For sealing altcoin cryptocurrency wallets (e.g. Litecoin or Dogecoin) you'll probably want to order the "plain silver" holograms. These still have unique serial numbers, but they do not include "bitcoin" white text.
Free first-class shipping world-wide! USA orders take about 5 business days, other countries about 5-15 days. 住在中国吗?我们也能运到你家门.
All orders also include a free 3.5 inch vinyl 'bitcoin' sticker for your car or laptop.
What can I get?
Hologram stickers come in silver and gold tints, and feature printed in pairs. You can also order a customized Ubuntu "LiveCD" with the generator pre-installed - by far the easiest and safest way to print out secure wallets. All orders include free first-class shipping, plus one free zip-sealing bag and a high quality 3.5 inch vinyl 'bitcoin' sticker for your car or laptop.
Oooooh, rainbows!
The shiny hologram tape used to seal up the paper wallets you see on this site isn't just for good looks. It's "tamper-evident" tape that provides a deterrent to a significant group of would-be thieves: someone in your trusted environment (home, work) who might be motivated to steal your coins if you were unlikely to notice the withdrawal until checking your balance online.
The holographic design on this tape is irreversibly damaged as soon as the tape is lifted from the paper, no matter how carefully it is replaced.
Unique serial numbers (printed in pairs) guard against merely replacing old stickers with brand new stickers
The reflective quality of the tape protects against "candling" - using a super-bright light source (like a laser) to see the private key through the folds.
Donations to encourage this project are warmly welcomed. Thank you!
Donate bitcoin, because you have some.
1Pjg628vjMLBvADrPHsthtzKiryM2y46DG
Source: bitcoinpaperwallet.com