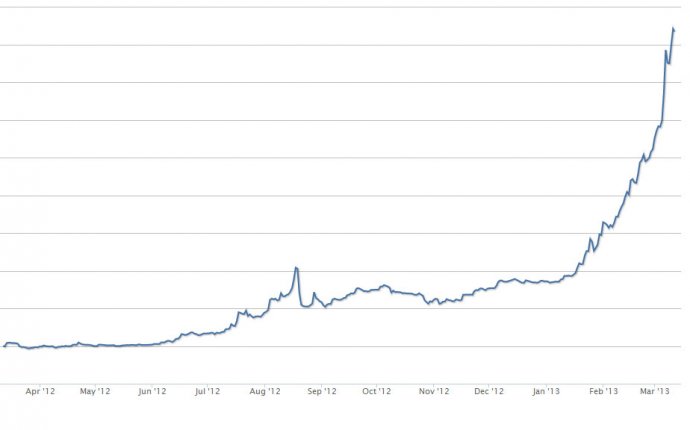 Bitcoin value VS Dollar
In the absence of important changes in the Bitcoin intra-day chart, here is an overview of a medium- and long-term strategy from which Bitcoin holders stand to benefit. As traders, we tend to focus on the next wave, and the direction of trend makes little difference if one is margin trading. However, the decision, whether to hold bitcoin or dollars in your trading account needs weighing.
This analysis is provided by xbt.social with a 3 hour delay. Read the full analysis here.
Bitcoin Value and Price Analysis
Time of analysis: 13h40 UTC
Dollar Index vs Bitstamp 1-Day Chart
Excerpt from today's xbt.social market analysis:
The above chart is a 1-day candle timeframe chart of the US Dollar Index – an index comprised of a basket of currencies (e.g. Yen and Euro) as priced in US Dollars. The Dollar Index (or DXY as its ticker is called) gives us a measure of the value of the Dollar in relation to other major global fiat currencies. The DXY has been rallying for over 6 months, and the reasons are many, but boils down to one thing: investors, institutions and central banks are buying the Dollar.
Overlaid on the chart is the Bitcoin price, also in 1-day candle timeframe. The two charts' movements are sometimes correlated and at other times not. Since July last year, there is a clear inverse correlation – right to the present. Those Bitcoin holders who had sold their bitcoins for dollars in November 2013 are looking at many multiples of their initial investment today. According to the technicals in both the Bitcoin and DXY charts, the opposite investment strategy is going to make sense in the coming months.
Summary
The Bitcoin price range is contracting on its eastward journey. While we wait for Bitcoin to complete price consolidation and transition of trend global markets are also changing. Many traders use exchange and trade accounts that are denominated in US Dollars by default and not well suited to the coming shifts in markets. Weekend analysis will explore strategies for currency holding and explore the most appropriate instruments for gaining profit from Bitcoin.
The Bitfinex Buy/Sell volume during the past hour and the past 24 hours:
What do readers think? Please comment below.
CCN
Readers can follow Bitcoin price analysis updates every day on CCN.
Disclaimer
The writer trades Bitcoin. Trade and Investment is risky. CCN accepts no liability for losses incurred as a result of anything written in this Bitcoin price analysis report.
Source: www.cryptocoinsnews.com