Setting up Bitcoin mining
BitFury sinks its ASICs in 160 tanks of dielectric fluid
Emerging digital currency specialist BitFury is building the world's largest two-phase immersion cooling system.
Located close to the sources of cheap electricity in the Republic of Georgia, the facility will use 3M Novec 7100 fluid to cool more than 40MW of specialized IT equipment.
The system was designed and is being built by Hong Kong-based engineering company Allied Control, which was acquired by BitFury earlier this year.
"We've taken many steps to optimize our infrastructure for securing the blockchain and blockchain transaction processing that have led us to many different technological innovations, " said Valery Vavilov, CEO of BitFury.
"These experiences and technologies could be useful for next generation data center constructions of high performance computing and supercomputing."
The immersion cooling technology will be demonstrated by 3M at the SC15 supercomputing conference in Austin, Texas in the middle of November.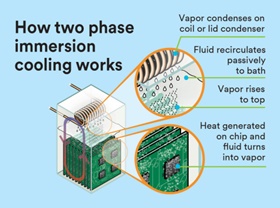 Source: 3M
Extreme ways
With two-phase immersion cooling, hardware is completely submerged in a dielectric cooling solution. The Novec liquid has a low boiling point of 61°C so when the temperature rises, it simply evaporates. Vapor is then condensed on water-cooled coils and returned to the tank.
The system doesn't use heatsinks or pumps for coolant – only chilled water in the secondary circuit is moved around.
After opting for immersion cooling, the company placed all of its racks inside 160 tanks filled with Novec solution. This enabled BitFury to deploy its proprietary 28nm and 16nm Application-Specific Integrated Circuits (ASICs) on densely packed circuit boards, saving energy and lowering operational costs.
"With 250 KW per rack and not having reached the limits yet, we now have the ability to grow quickly and spread the cost of the cooling system over many hardware generations, " said Kar-Wing Lau, vice president of operations at Allied Control.
BitFury claims this approach delivered as much as 95 percent cooling energy savings, when compared to traditional air cooling, and a PUE of 1.02.
Source: www.datacenterdynamics.com